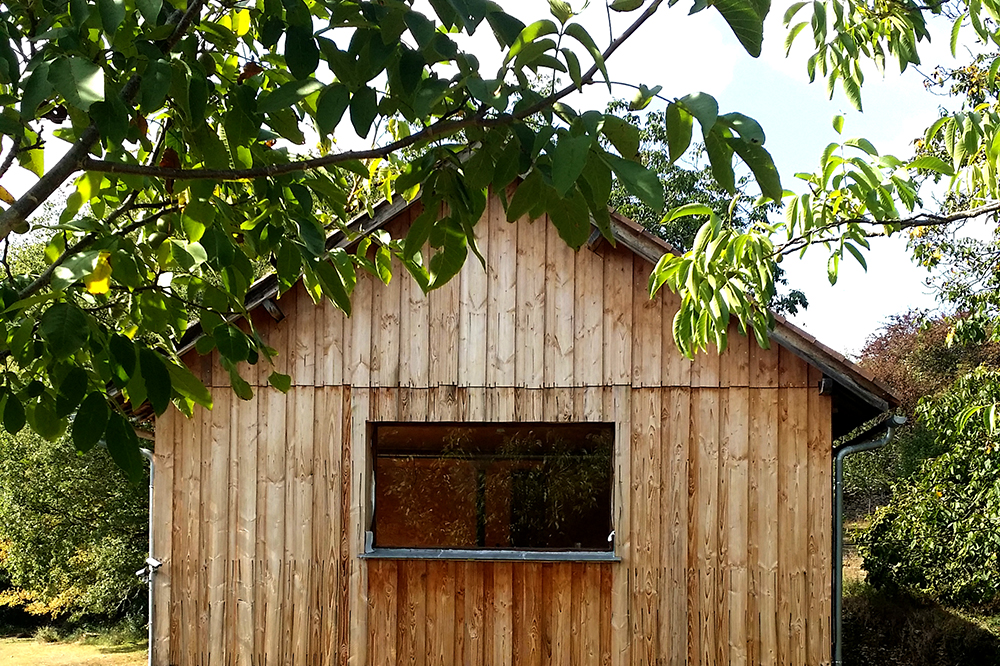 Studio fabien barrero+carsenat is based in south-west France near the Vézere and Dordogne valley, protected and recognized by the UNESCO
"(...) particularly interesting from an ethnological and anthropological, as well as an aesthetic point of view because of its cave paintings, especially those of the Lascaux Cave, whose discovery in 1940 was of great importance for the history of prehistoric art. The hunting scenes show some 100 animal figures, which are remarkable for their detail, rich colours and lifelike quality..."
The little town of Castels is an area surrounded by forest, fields and wild life. We work using the identity and roughness from materials such as woods, marbles and ceramics. The natural character and the imperfection originaly into materials generate a daily poetry and philosophy to our senses. The manufacturing requires traditional and contemporary processes. Each piece is numbered and signed, warrant of singularity and unique.
Studio Fabien barrero+carsenat est installé au coeur des vallées de la Dordogne et de la Vézère. La commune de Castels, petite ville typique du Sud-Ouest est au beau milieu de la campagne du Périgord Noir, un endroit cerné par les forêts et sites historiques. Ces lieux sont classés au patrimoine mondial de l'UNESCO est dénommé comme berceau de l'humanité avec ces 400 000 ans d'histoire. Nous travaillons en utilisant l'identité originelle de matériaux tels que le bois, le marbre ou encore les céramiques. Le caractère naturel et l'imperfection au sein des matières nous offrent poésie et philosophie que nous restituons dans des objets éveillants nos sens au quotidien. La mise en œuvre fait appel à des procédés de fabrication traditionnels et contemporains. Chaque production est soigneusement numérotée et signée, leurs conférant un caractère unique.
---
Collaborations & clients:
Galerie Matières à conviction, Paris FR
Cabinet d'avocats Cayol Cahen & Associés, Paris FR
Restaurant Itinéraire (Etoile Guide Michelin) Paris FR
Oode Gallery, Amsterdam NL
Air France KLM, Roissy Charles de Gaule FR
Cité du Design, Saint-Etienne FR
Région Rhône-Alpes, FR
Architonic, Zurich CH
Granville Gallery, Paris FR
Organic Avenue, Stuttgart DE
Design For All Foundation, Barcelona ES
Prismaflex, FR
Nokia headquarter, Espoo FI
City of Tallinn, Estonia
2018 
+ Dubai Design Week, United Arab Emirates
+ UCCN, Katowice, PL
+ MELT exbibition Gallery Showroom Made in France, Paris, FR   
+ Shenzhen Design Week 18, CN
+ Hybride exbibition VIA, Paris, FR   
2017
+ Shenzhen Design Week 17, CN
+ La Rotonde, Paris Design Week, FR 
+ Salone del mobile, Milano, IT 
+ OODE Gallery Amsterdam, NL   
2016
+ NOX Exhibition at OODE Gallery Amsterdam, NL 
+ Château de Maisons-Laffite, FR 
+ Good Morning Design, Foire de Paris, FR 
2015 
+ Paris Design Week, Paris FR 
+ Eunique Design Trade Faire, Karlsruhe DE 
+ Biennale Internationale de Design, exposition Made in France, Château de Bouthéon FR
2014
+ Design Night Festival, Tallinn, EST
+ Paris Design Week, NOW! le Off, FR
+ DMY Berlin Design Festival, Berlin, DE
2013
+ Dutch Design Week, DDY Gallery, Eindhoven NL
+ Nominated at James Dyson Award
+ Paris Design Week, NOW! le Off, FR
+ Vuoristo coffee table nomited at RADO Star Prize
+ Shortlisted at Death Design Contest by Designboom
+ Nominated at Index Design Award
+ Biennale Internationale de Design, Project Pinus-Pinaster, Saint-Étienne, FR
+ Stockholm Design Week, exhibited at Greenhouse, SE
+ Winner 1st Prize Laurent Charras, Biennale of Design Saint-Etienne, FR
2012
+ Designer at Studio Pepe Heykoop, Amsterdam, NL
+ Galerie Cat Berro, Paris, FR
+ Architonic, Zurich, CH
2011
+ Cité du design, Saint-Étienne, FR
+ Estonian designers Office, Tallinn, EST
+ Design for All fondation,
+ Granville Gallery Paris, exhibition Coffre à secrets ("Au bonheur retrouvé")
2010
+ Granville Gallery Paris exhibition "Lueur intimes"("Îlot")
+ Lauréat appel à projet Prismaflex, Saint-Étienne, FR
+ International Biennal of Design, exhibition "l'Entreprise", Saint-Étienne, FR 
T. +33 (0) 698 986 172 (France)
E. contact[at]fabienbarrero.com
Studio Fabien Barrero+Carsenat
Lieu-dit Baran
F-24220 Castels / France 
RCS 489 409 979 00023 - code NAF : 4647Z